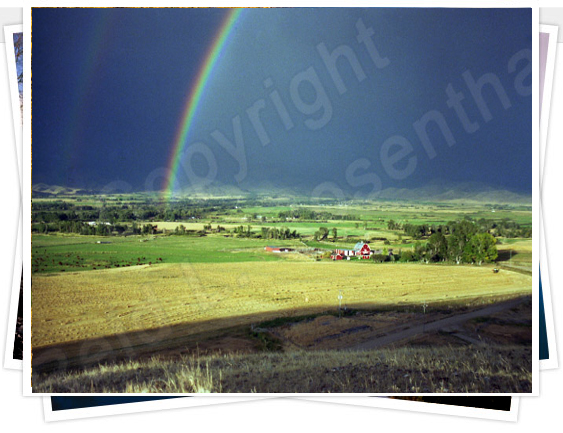 The land and nature's touch play out in a variety of stunning scenes, angles of light, natural phenomenon. Sometimes subtle, sometimes brazen but always and forever changing, unique and distinct in every moment.

My love affair with the land and its ever changing moods began long ago. That first stage of cognitive thought at the age of three four when a human can realize the distinction between normal and special was when the revelation kicked in for me.
Over the decades my love of photography and fascination with landscape blissfully collided. I have been fortunate to capture many scenes in many places around the globe. I love sunsets and sunrises, and the moody shadows of shifting weather patterns. But rainbows have always held a special allure. I do not know if I have been especially lucky, that right place, right time thing, or my conscious decision to chase photographs of sky born arcs of colorful promise have somehow combined with rainbows finding me. Perhaps it is the old adage; Direct your energy to what you seek, and it shall appear.

These photography offerings have been a long time coming, but I believe you will find them worth the wait. There will be varying series of photos. This first one is but a mere sampling of the thousands of rainbow frames I have snapped over the years. Other series will include sunsets, sunrises, and provocative landscapes.
Each of the photos featured for sale here will be limited to 100 signed prints.
They will be signed, numbered and matted, but not framed.
Several varying sizes at varying prices are available.
Please allow two to three weeks for delivery from the time that we receive your payment.

I hope these images convey at least a sense of the magical mystical moment, never to be repeated, at the time the shutter clicked. Enjoy!

TO VIEW OR PURCHASE EACH RAINBOW IMAGE, PLEASE SELECT FROM THE RIGHT SIDEBAR. (You may purchase by credit card, money order or check shown below each image).
Photo Prices are as follows:
8 X 10           $75.00
10 x 12          $95.00
11 X 14         $115.00
16 x 20          $158.00
Larger than 16 x 20: Please Inquire
Note: Not all pictures will satisfactorily increase to sizes above 16 x 20. Please inquire as to specific picture.
1) Includes shipping/ground UPS
2) Allow 2-3/- weeks for delivery
3) Neutral mounting selected to blend with and accentuate picture.
4) Photo is mounted on white board.