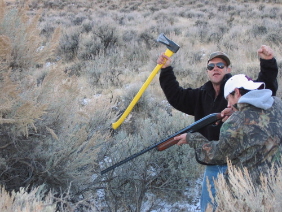 I have just returned to Montana from a several week jaunt between my home on the Wyoming Ranches and our spreads in Colorado. I am eagerly looking forward to our annual "Christmas tree undertaking".
I do not recall exactly when this family tradition originated up on the Montana Ranch, but it has become one that we anticipate each year with grins, guffaws, and gleeful rubs of our hands.
The first step in our unique holiday fest is to find a large five-eight foot sage brush. The sage fragrance has to be just right. Our bush needs a single trunk rather than the twisted multi branch stems that many sage brush plants sprout. The latter lesson we learned the hard way years ago. We located a seemingly perfect sage in every other respect a mile from the ranch house. However, it fit our Christmas tree stand only after saws and hatchets in the great room made a complete mess as wood shavings danced on the floor and pieces of bark were flung from blades and ricocheted off of windows and walls. The accompanying dialogue was less than holiday-like. Finally, the mission was accomplished. "PPPPP", Prior Planning Prevents Poor Performance.
When I think back it may have been Jordan's suggestion back in the late nineties that precipitated our hoot and holler holiday tree festivities. Rhett added a touch several years ago by insisting that the tree must be taken down, if the celebration was to be a true western Christmas event, by multiple rounds from a shotgun. I must admit the procedure is effective even if more expensive and a bit more time consuming than a chainsaw. Of course shooting muffs to protect our eardrums are an added ingredient not usually found in most folk's notion of Christmas tree harvest.
The sage lasts a good solid month with just a bit of water in the stand. These trees are high desert vegetation accustomed to long periods of little water. The aroma of the plant permeates the house with the delicious scent of high country range. The winkin' blinkin' of the Christmas tree lights strung on the gnarled brittle multi branches of the bush softly reflect off the blue green silver of the irregular sage needle leaves and cast an ethereal glow throughout the room.
Tomorrow will be our annual event. Now, if you will excuse me, I have to go look for that box of twelve gauge magnum shells to prepare.
MERRY CHRISTMAS, HAPPY CHANUKAH, AND THE BEST OF HOLIDAYS TO YOU ALL. MAY THE NEW YEAR BE THE HAPPIEST AND HEALTHIEST FOR EACH OF US, AND MAY IT BE THE BEGINNING OF A LONG PROSPEROUS PERIOD FOR AMERICA AS WE FINALLY REGAIN OUR FOOTING AND GO BACK TO OUR CONSTITUTIONAL ROOTS. MAY THE FORCE BE WITH YOU