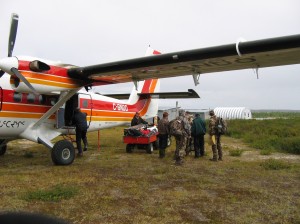 Well, not quite. Our final destination was a tiny outpost called Camp Reále, one thousand miles north of Quebec and one hundred and fifty miles south of the Artic Circle.
Hiccups of the previous several days were behind us. Our travel to Montreal and hook-up with the outfitting company had been smooth.
In Montreal we had been briefed by outfitter representatives. The Safari Nordik people were professional, organized, friendly and helpful.
The jet flight from Montreal 2.5 hours north to Kujuiiak, Nunavik Territory, Quebec Province was on First Air. It dubs itself the airline of the North. I was very impressed. The First Air jets were short and stubby but unusually wide bodied. The entire front half of the airplane was additional cargo hold rather than passenger seats. There was lots of room, spacious seating, full blown hot meals, complimentary cocktails with refill and after dinner mints. (Knock, knock. Delta, United, etc., are you listening?). Kujuiiak was our rendezvous point with the bush plane. It is a small town of about 2,000 inhabitants, nestled in the tundra between numerous lakes not far from the coast. There are no roads to Kujuiiak. Goods and supplies are possible only by ferry or by air.
Our flight to camp Reále was by a twin engine Otter. These small powerful planes sport large tundra tires and over two thousand horse power in their twin engines with monstrous propellers. They carry 6 persons plus pilot, gear, cargo, and supplies.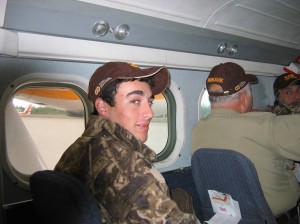 Once seated in the tiny fold down seats, Rhett, I, and the other four hunters headed to Camp Reále, looked at each other with wide eyes. We had realized that we shared the compressed cabin space with two, two hundred gallon barrels of jet fuel and two, one hundred pound propane bottles. Definitely a crispy critter possibility.