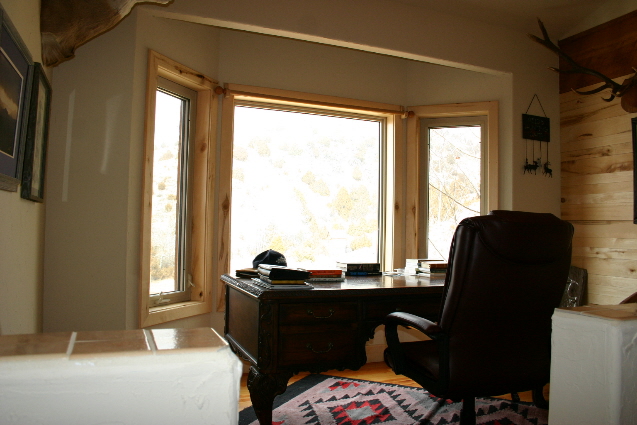 My business desk has always been rather southwestern in style, not that anybody would know. You can't see any part of it because of the piles of paper stacked everywhere (see Getting Organized). Though it fit into the overall décor of the house it seemed at odds with my vision of the perfect desk on which to write.
Several years ago I received an invitation to the home of a good friend and business associate. The decor seemed perfect and his office in particular caught my attention. There it stood, large and ornate with intricate scrolls carved in the legs. Stained to a rich, dark and masculine hue it was the desk of my dreams. I vowed right then and there that mine would be similar.
I began to search furniture catalogs. I stopped in at prospective retail outlets. I spoke with friends about recommendations. My search led me to EBay, the land of endless possibilities. One desk in particular caught my attention. Though not quite as dark as the one that belonged to my friend it had fine detail in the curved scrolled legs. A myriad of drawers with brass pulls supported the expansive surface. I contacted the vendor, asked a few appropriate questions and closed the deal. A prerequisite to my purchase was that it be delivered to Montana.
For the next twelve months I waited. It seemed as though the delivery gods were against me. The excuses were many. "The truck broke down. The inclement weather. Aunt Tildy has been eaten by wild mice on a rabid rampage in her attic," and so on. In exasperation I relented and told them to find a hauler. Six more months passed with excuses as to why they couldn't get the desk down the road to the shipping company.
I called the shipper and they took the situation in hand. The sellers crated the desk and it was finally in route to me. This is not, however, the end of the saga. Stay tuned.