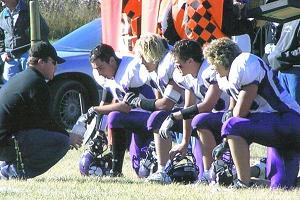 Last year at this time, Rhett was co-captain and one of the nucleus of five seniors that had been teammates for years. I secretly thought this just might be Sheridan's finest football team in over a century. At the beginning of the year, Rhett was enthusiastic, optimistic, but not quite a true believer. Having watched these fine young men evolve, play together, and each year fine-tune their skills and repertoire of plays and strategy, I felt a disturbance in the Force. After watching a few scrimmages, I told Rhett he was the captain of a team of destiny. He listened, but did not quite believe.
Over the years, I had driven thousands, make that tens of thousands of miles for track, football, and other events of the kids. It's nothing up in this neck of the woods to drive eight-hundred miles round trip for a game. The high school is only about ninety kids, fourteen of whom are on the football team. That meant that everyone plays both defense and offense, a huge disadvantage in playing other schools with thirty-plus players on the roster.
Compounding the odds against this team making history was the fact that the three best teams in the state, Sheridan, Twin Bridges, and Drummond, (a five-time state champion), were all in the same southwest Montana conference.
Sheridan thumped their opponents. Scores of 50-6, 60-0, were not uncommon. But they lost to Drummond and they lost to Twin. Drummond was a close game, but Twin was not. And then Twin beat Drummond. As first seed, and fourth seed respectively, it was Sheridan and Twin, long time arch rivals, in the opening round of the state playoffs. Joe was the quarterback and Rhett's best friend and toward the season's end would be the best quarterback in the state (later named Montana's All-Star's MVP). Still, Sheridan's great coach had been sticking to a mostly smash mouth running offense. I played football in high school and wasn't half bad as a linebacker, but I am not a huge football aficionado. Nor do I consider myself overly football savvy. I do, however, know human energy. I sensed the doubt in Rhett and his teammates who wound up at the house here for elk dinners way more than a few times. I suggested to Rhett they had nothing to lose with Joe as an all-conference quarterback and Rhett as an all-conference receiver by approaching their coaches and changing their attack to a pass offense for the playoffs. Joe and Rhett latched onto the idea, developed a whole new playbook, and sold the coaches on the concept. Other than my original suggestion, I sat back and watched.
The Twin playoff game was at Twin. Twin was supremely confident. They were even selling state championship ball caps at the game. The bleachers and new scoreboard they had purchased for what they were convinced was their state championship couldn't come close to containing the two-thousand plus fans ringing the field the day of the game. Sheridan had been practicing their new pass offense for two weeks in secret. As I watched them during their warm-ups along with the other dads, I sensed a fundamental change in the boys. There was a quiet confidence and determination.
Twin returned the opening kick-off for a touchdown, but Sheridan blocked the extra point. 6-0 Twin in just two plays. Sheridan seemed strangely undaunted. Sheridan and Twin were each stopped by the other twice within the ten yard-line. Twin finally scored again midway through the second quarter. Again Sheridan blocked the extra point. The boys were playing flawless football. So was Twin. I went over behind the bench during a time out, caught Rhett's eye, and mouthed the word, "Destiny," with a thumbs-up sign. He smiled. It was a grin of self assurance, resolve, and agreement, unspoken communication between father, son, and something far larger.
With thirty seconds left in the half, Sheridan on their own 42, Rhett and a decoy receiver streaked down field, Joe scrambled, and in a John Elway-like pass, rifled the ball toward the end-zone. Rhett, with three defenders all over him, leaped for the ball, the purple of his jersey disappearing in a sea of Twin red and silver. The seconds ticked by as the pile untangled. Rhett stood up holding the ball triumphantly aloft. Touchdown! Twin blocked the two-point conversion. The half ended 12-6.
The teams battled each other to a standstill until the end of the third quarter. Then, Twin scored again and converted the kick. 19-6. Midway through the fourth quarter, there was another Joe-Rhett combination for long yardage. Rhett's catch was one of those textbook, both toes tip-toe inbounds falling out of bounds after the catch picture perfect receptions. Sheridan's all-state running back, Justin, scored and Sheridan converted for two points on another Joe-Rhett pass play. Nick, Justin's twin brother, was playing monumental football on the line. Sheridan 20-Twin 19. There was pandemonium on Sheridan's side of the field and an eerie, semi-shocked silence in Twin's bleachers. The game was being broadcast by the local Dillon radio station. More and more people were arriving by the minute to watch this incredibly perfect contest between two of the giants of Montana high school football. The crowd was now easily 3000 and growing. That's no small feat for two towns having less than 1000 population combined.
Early in the fourth quarter, Twin put together a series of dazzling plays and although it took them over six minutes to reach the goal-line, they finally did so. There was no talk on the field, but you could hear the grunts of exertion and the pads popping from the jarring collisions on every play. Limping players hobbled off the field virtually every other set of downs, wrapped their injured joints, and limped back out for the next series of plays. It was Twin 26-Sheridan 19, with two minutes remaining in the game. Both teams were playing with a ferocious tenacity and concentrated play execution that would make a coach at any level envious. Sheridan connected for a touchdown. Their attempt at the extra point was blocked. Sheridan 26. Twin 26. Overtime!
The photo of the four seniors kneeling in exhausted concentration before the overtime with their coach says it all. There were now more than 5000 people, standing more than ten deep, ringing the entire field. I was so hoarse I could barely whisper.
Twin won the toss. Sheridan stopped them on the seven yard-line. Twin likewise stopped Sheridan on the six yard-line. Double Overtime! Sheridan won the toss and on the very first play, unleashed its passing attack and scored. I and the other dads, in nervous exhilaration, were trying to shout encouragement, but we had been reduced to frog-like croaks long before the end of the regulation game. On the very next play, Justin bulldozed his way in for a two-point conversion. The Sheridan stands were a blur of frenetic motion and sound. The Twin stands, on their feet, radiated quiet desperation and disbelief. Now it was Twin's turn. They drove down the field and on fourth-down, goal-to-go, Rhett intercepted on the two.
From that point on, Sheridan advanced through the many rounds of the playoffs, thoroughly pummeling their opponents, including many championship teams from other conferences. Joe suffered a punctured lung in the semi-finals. Sheridan lost to Drummond in the state-championship game, the first state-championship game for Sheridan in 105 years. It was all magic and it might be years before Rhett and his teammates understand just how magic it was. But that bright, sunny October day a year ago was backdrop to perhaps one of the greatest football games I have ever had the honor to watch. More importantly, it was my privilege to watch a group of young men discard their lingering doubt, overcome adversity, metamorphose into a cohesive, fluid team and rise to an occasion which will remain unique in their lifetimes.
I went to two of the team's games this year because I missed it and wanted to show support to the boys I had come to know who were still playing and their dads who had become my friends. Despite the team looking pretty good and playing relatively well, there was no number 13 on the field and the mystical aura of last year's state championship team just wasn't there. It was bittersweet. No matter how I tried to concentrate on the game at hand, I always found myself transported to the fall of 2007 when my son and other great young men became a team, believed collectively they were champions, and stepped up to meet their destiny.